WEBINAR
The Power of Intent-Driven Automation:
How to Use Intent Classification to Decrease TTR and Improve CSAT
NOV. 29, 2022 | 9 AM PST | 5 PM GMT
At the heart of delivering a delightful customer experience is understanding what the customer truly needs, i.e. the customer intent. Helpshift launched Smart Intents to offer the first truly customer-centric intent classification tool that delivers an AI guided end-user support experience that is efficient and delightful. Our customers have taken their support automations to the next level thanks to implementing intent classification at the start of their customer journey.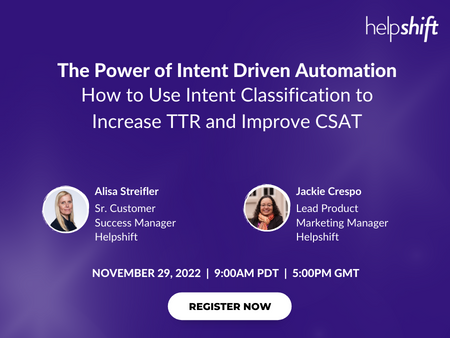 This webinar covers:
Understanding intent classification and its place in the Modern Support Journey


Best practices for implementing intent classification to unleash the full potential of your support automation strategy


Customer success stories illustrating how Helpshift customers used intent-classification to optimize issue automations ultimately delivering higher CSAT, higher ROI, and faster resolution times


Advanced level suggestions for taking advantage of Helpshift Smart Intents capabilities to scale your support capacity across increased volume and geographic expansion