Scaling the Unscalable: A practical approach to community & content moderation at scale!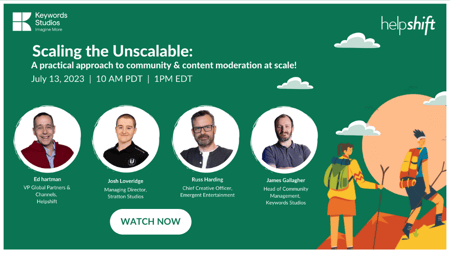 Taking care of your players, and launching, growing and sustaining your game's fan community can be a bumpy ride. From players sounding off online about undetected issues, to bad actors threatening the community with toxic elements — any number of problems can hurt your growth and retention rates.

Often, it's never ONE issue, rather a cascade of small issues that eventually pile up — and before you know it, you have a mountain to climb!

In Helpshift's next interactive webinar, we're bringing you a panel of expert guides to help you conquer that mountain with ease; planning and scaling your game community and content moderation strategies.

Our guest panelists are:
Josh Loveridge

, Managing Director at

Stratton Studios

who specializes in helping AAA+ solve difficult problems, including content moderation and community management issues.

James Gallagher

, Head of Community Management at

Keywords Studios

, who oversees hundreds of community and social media professionals working alongside many gaming and entertainment clients. He's analysed successful tactics that studios have deployed to grow healthy and engaged communities.

Russ Harding

, the Chief Creative Officer at

Maze Theory | Emergent Entertainment

, who has been down the rabbit hole of community and moderation at scale many times...and lived to tell the tale! Russ's team is currently building an MMORPG and has been fostering community in the VR space and beyond for years.
We'll cover:
Community cultivation and expansion strategies that actually work

How to tackle content moderation with our step-by-step approach to content moderation at scale
Understanding and building community around emerging technologies such as XR & Web3
These INCREDIBLE speakers will walk you through practical steps to help you avoid pitfalls, get your game embraced enthusiastically by players. Join us LIVE and bring your questions! You do not want to miss this fun, interactive and insight-packed conversation, so register today to secure your spot.
See you soon! 👋